Ed Balls: Physical and mental health conditions can be useful at work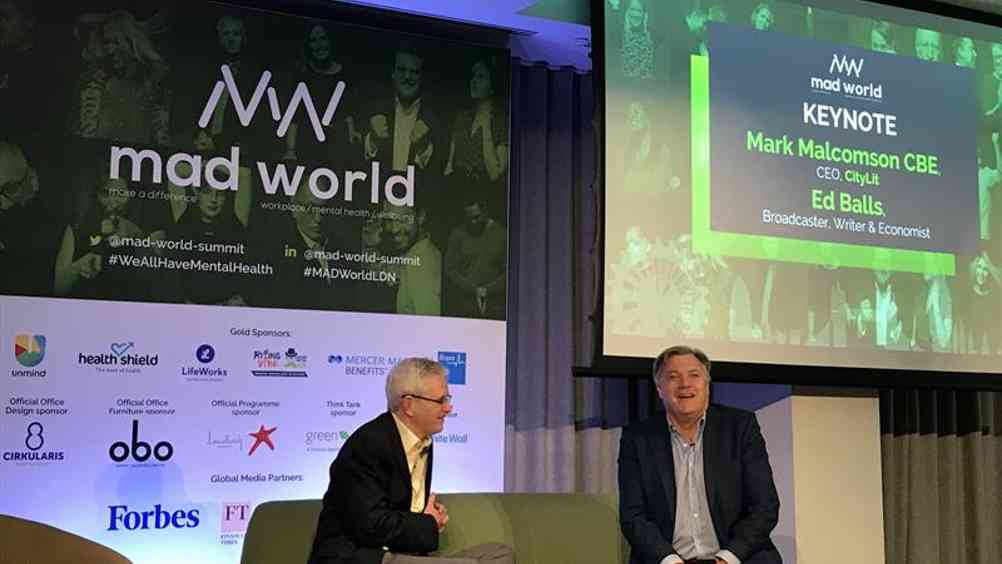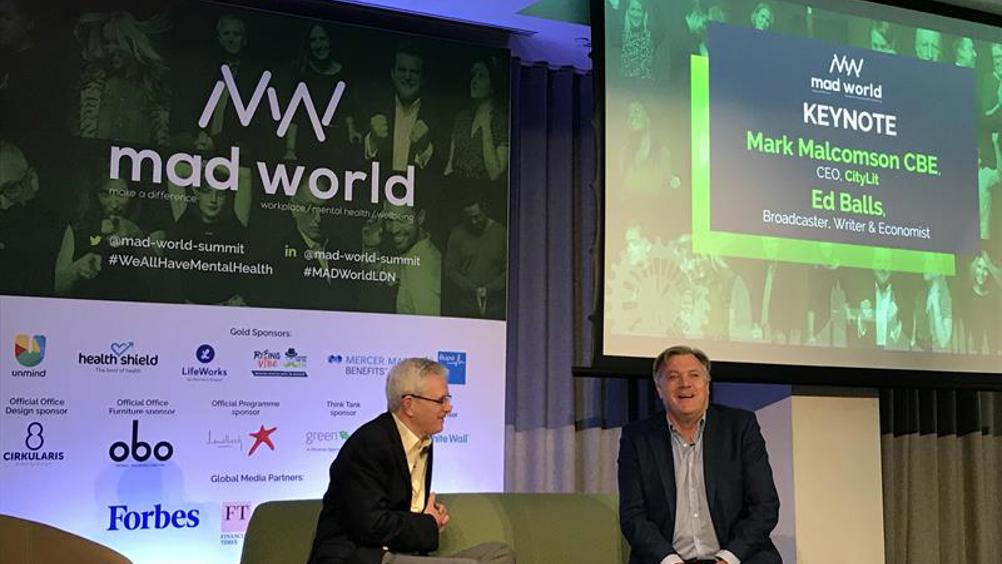 The former Labour MP shared his experience of learning to manage a stammer in a public role and urged others not to hide their conditions
People with physical or mental health conditions can learn to use them to their advantage in the workplace, according to Ed Balls, broadcaster, writer, economist and former Labour MP.
Speaking at the Mad World Summit, Balls shared how he discovered he had a stammer and learnt to manage it, while working as a politician where public speaking was a key part of his role.
"Everything like this shapes and affects you and sometimes it makes things harder but it can also make things better," he said. "Life is about how you manage them and turn them to your advantage."
Balls said he learnt that his speech is better when he doesn't have a script. Part of not reading from a script means he has been able to be himself more, he explained, which is a useful trait for a politician and public figure.
"Dealing with a concealed stammer in the House of Commons was very hard," he said, adding that the challenges he faced made it much easier to then participate in televised dancing competition Strictly Come Dancing as he had learnt what worked best for him.
"If you gave me the choice now I'd choose my stammer," he said. "If I didn't have my stammer I wouldn't have done Strictly and I wouldn't have learnt to speak on TV."
Balls said it can be "disastrous" if people "aspire to defined ideals" and instead encouraged people to accept their physical or mental conditions as part of who they are.
"With difficult things [people] face in life like physical disabilities or mental health challenges… the problem is fighting and denying it," he said.
Balls gave the analogy of an iceberg where underneath the surface is a "whole mass of tension and avoidance and stress". "The key breakthrough is the point where you realise it's who you are and that's OK. It's not something you've caught or something you could be cured of… it's who you are," he said.
However, Balls admitted that it took him many years to realise and accept that he had a speech disorder. He told the audience that he didn't find out he had a stammer until he was appointed to his first ministerial job.
Balls recounted how it "hit home" when he was selected as a Labour candidate and had to do a live Newsnight interview and his "words didn't come out very well". About a year later, when he was asked a question on foreign policy and hesitated, his father told him he "had the same as what I've had" and that "it will stop you getting to the top of politics".
"I'd struggled for years but never knew what it was," he said, explaining that he would "just dry up" and "the words wouldn't come out".
When he was recommended therapy for his stammer, Balls said he was sceptical. "I was like 'I can't have therapy I'm a Cabinet minister, we don't have therapy'," he said. "I didn't believe it was a stammer."
He finally decided to face the challenge and seek help when, after struggling to read from a statement in the Commons, he heard someone say 'he's meant to be the secretary of state and he can't even get his words out'.
Yet, despite learning mechanisms to manage it, being open about his speech disorder was another issue, he explained.
"[My therapist] said it 'will only get better if you go public'," he said, adding that this was "because it only happened under pressure" which was when he was speaking live on TV or in the House of Commons. "I spent two years going to see her before I went public," Balls shared. "I had a protection strategy as I was worried something would go badly."
He began working with Michael Palin, who has campaigned to raise awareness of stammers. When filming children talking about their stammers for a campaign Balls met a father of a child with a stammer who called him a "coward" for not speaking up about his own struggles. He then decided to talk openly about it for the first time.
Opening up publicly about his stammer has actually helped it, Balls revealed. He realised that when he had a "block" it "wasn't my stammer" it was a "moment of stress".
He added: "The decision to go public – I never thought that would have been possible to do in a senior public position."