The problem is that these are not trivial changes. Some are founded on decisions that could cause a raft of employment tribunal claims and employers have to do all they can to mitigate that effect. 
---
Employment tribunals in 2021:
Coronavirus redundancies increase employment tribunals
When will the employment tribunal backlog ease?
EAT ruling means better protection for striking staff
---
Certainly, working from home is a well-discussed topic and the section of any employment contract about 'normal place of work' will be one that will have permanently changed for many people. But while moving work from office-based to a hybrid or fully home-based model will undoubtedly require liaising with employees to find the right balance, this is one hurdle that can be relatively easily overcome.
One of the largest changes from working from home will be company policy and how to manage and measure workloads as well as the productivity of employees. Doing this correctly can make sure that employees are cared for and promoted when deserved. It is a move that will take time, but it should result in greater results rather than negative tribunals.
However, there are some areas that are not as easily handled with negotiation and communication between employer and employee.
The pandemic triggers a rise in employment tribunal cases
Already, in the past financial year as courts and tribunals were running at a low capacity, almost 117,926 tribunals were heard in court – higher than the 10-year average of 116,916. 
While the majority of these cases were down to unfair dismissal (23,904), something we expect to see at a time of recession, almost 15,000 were attributed to breach of contract and more than 700 to religion or belief discrimination.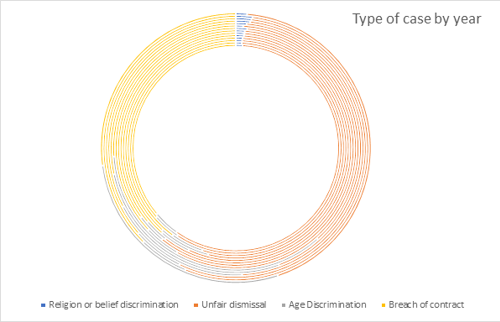 The situation we find ourselves in is rife with conflicting emotions, opinions and beliefs (including vaccine hesitancy). There is the potential to create serious friction in offices that were close-knit before the pandemic.
While it is doubtful that employees who have a strongly held belief that vaccines are harmful to public health (anti-vaxxers) will amount to a protected belief under the Equality Act 2010 there is no case law specifically on this point. 
However, it is possible that the protected characteristic of religious or philosophical belief could protect certain religious or moral objections to the vaccine, for example, gelatine derived from pigs is often used in mass-produced vaccines and this may be a concern for Muslim, Hindu, vegan or vegetarian employees.
Although there is no gelatine in the COVID-19 vaccines currently available, shark liver oil is being considered for one of the new vaccines. Other employees may reject the vaccine because embryonic tissue was used to test or develop the vaccine. 
A difficult balancing act for all sectors
For those in healthcare, such as care homes, there is already a move to make COVID vaccination mandatory. It is unlikely that this can be mirrored in the office as there is a lower likelihood of being in direct contact with vulnerable people.
However, unilaterally imposing changes to contracts or only placing the change in a policy which the employee is not made aware of could result in a flood of claims that the care sector can ill-afford to face when its capacity is at breaking point.
While the health and care sector considers the raft of changes it must make in order ensure its employees are vaccinated, the balancing act for other sectors is much more delicate. 
To give the best chance of avoiding accusations of discrimination the best approach for businesses is to communicate and engage with employees regularly. Made to measure contracts, policies and working arrangements to fit around all ranges of conflicting anxieties and beliefs in the office will be needed.
Giving employees notice to adapt to policy change will be essential. This pandemic has been found by various studies to cause anxiety and depression and it will continue to do so. And after spending more than a year adapting rapidly to changing circumstances, policy changes cannot simply be sprung upon increasingly vulnerable employees at short notice.
These difficulties will also be compounded by addressing the balance between those who get a COVID-19 vaccination and those that refuse to, as is their right. The key may be flexibility in the contract, listening to employees on a case-by-case basis and viewing the matter through legal eyes to avoid emotion. 
There are almost 16 million people in the UK that could return to a place of work in the future and every one of them has had their own experience of the pandemic. There will be just as many people glad to return to the office as those unhappy to do so.
No one said a return to office was going to be easy and this climate will cause tribunal claims and disputes between employer and employee. However, if employers can perform a difficult contractual, policy and logistical dance they should be able to make sure that when we do return to the office as many opinions and beliefs as possible are catered for preventing many disputes from arising.
Sarah Begley is employment solicitor at The Wilkes Partnership