Research from gender equality charity the Fawcett Society found 10% of women experiencing menopause have left the workforce due to their symptoms, rising to 25% for those with more severe symptoms. 
Symptoms can include hot flashes, dizziness, insomnia, and muscle and joint stiffness. 
Sally Blake, UK diversity and inclusion manager at Zurich UK, said sensory plans could help them choose the most comfortable place to work.
For example, employees may need a cooler space to combat hot flashes.
The guides will also help those who are neurodiverse, pregnant or managing depression or anxiety to decide which desk would best suit their needs.
For example, people with autism may have a high sensitivity to noise and need a quieter space, while pregnant women may be more sensitive to smells and need to be closer to a relaxation area.
---
Read more: Neurodiversity in the workplace: why office life isn't for everyone
---
Speaking to HR magazine, Blake said: "It's important to remember that accessible design benefits everyone, and it doesn't only mean physical adjustments to a building. 
"This will help anyone visiting one of our offices, whether they have a long- or short-term sensory need, or even if they are just visiting for the first time and want to get their bearings in advance."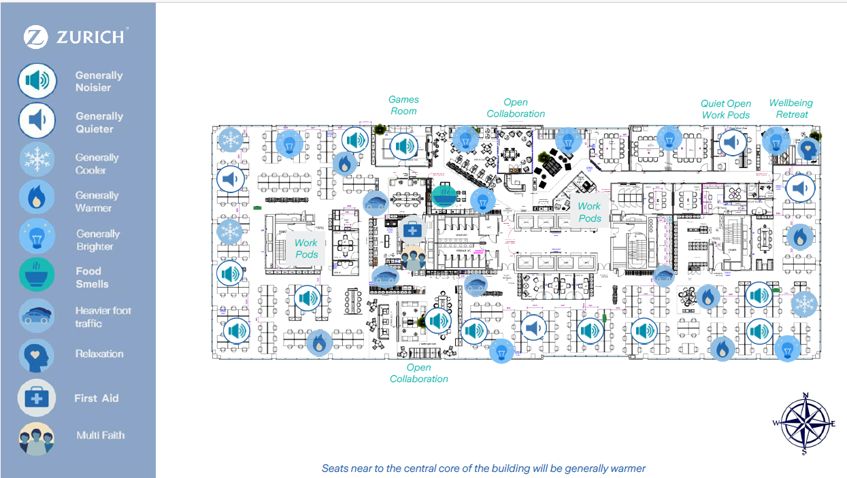 Ed Warner, founder of inclusive design consultancy Motionspot, said workspaces can greatly impact performance.
He told HR magazine, "Small changes in the design of workplaces make a big difference to how staff feel and perform at work. Improvements include changes to lighting, acoustics, design of quiet spaces, and conscious use of colours and materials for neurodivergent staff. 
"It can also involve the design of multifaith spaces for different cultures and faiths, or inclusive design features for the menopause, menstrual health, pregnancy and more."
He said inclusively designed offices require careful thought and consultation with employees, adding: "The most successful businesses will be those that embed inclusive design from the outset of refurbishment projects and design choice into buildings and spaces.
"In doing so, organisations enable everyone to thrive at work."