Adding to its already well-stocked armoury, The Pensions Regulator (TPR) will have beefed up criminal and civil powers at its disposal (see box below).
In addition, new scheme funding requirements, changes designed to clamp down on pension scams, and new climate change obligations are all ones to watch.
With much of the detail to be set out in regulations, 2021 promises to be a pensions regulatory year to remember.
---
Further reading:
Why HR needs to support young employees' pension plans
Plugging the Arcadia pension fund gap
Re-imagining and reassuring employees of their pensions
---
A tougher regulator
TPR already has a broad range of anti-avoidance and enforcement powers to help it regulate occupational pension schemes. For example, TPR can impose a 'contribution notice', requiring a sponsoring employer (and anyone associated or connected with it) to make a payment into a defined benefit (DB) scheme.
Trustees and employers must also notify TPR of certain events (known as 'notifiable events'), including breach of a banking covenant.
Under the Act, failure to pay a contribution notice is one of a number of new potential criminal offences. The notifiable events regime is also being expanded, with the granting of security on a debt to give it priority over a DB pension scheme expected to be on the list.
Two of the new criminal sanctions (avoidance of a statutory debt and conduct risking accrued benefits) attracted much debate, as well as industry concern during the Act's passage through Parliament.
Primarily aimed at "reckless bosses who plunder people's pension pots", both offences have the potential to capture ordinary business activity and a wide target audience.
Clear guidance from TPR will hopefully help businesses and trustees stay the right side of the regulatory line.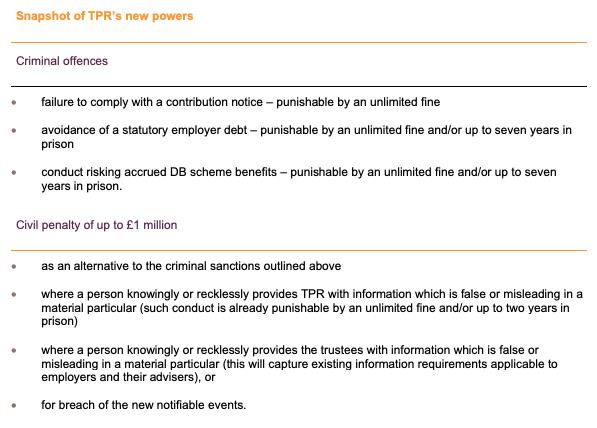 Scheme funding
For DB occupational pension schemes, there is a new requirement on trustees to produce a funding and investment strategy. The purpose here is to look beyond the existing regime and to target a higher level of funding at a date (to be determined) in the future.
Employers' agreement to the funding and investment strategy, as set out in the scheme's statement of strategy, must be obtained. Sponsoring employers will also need to be consulted on some of the detail, such as the main risks faced by the scheme in implementing the strategy, and how the trustees intend to mitigate or manage them.
Restricting transfers and going green
In future, occupational pension trustees will be prevented from making a statutory transfer unless prescribed conditions are met, including members providing information or evidence about their employment or place of residence. Before a transfer can proceed, the member may also be required to provide evidence that they have obtained information or guidance from a prescribed person.
While these may seem simple enough steps, they are designed to help flush out potential problems and prevent members unwittingly falling victim to scams.
Finally, the Act will require trustees to think greener, as a result of new climate change governance and disclosure obligations.
Claire Carey is a partner at Sacker & Partners