Chocks away: Interview with Tina Oakley, HR director at Gatwick Airport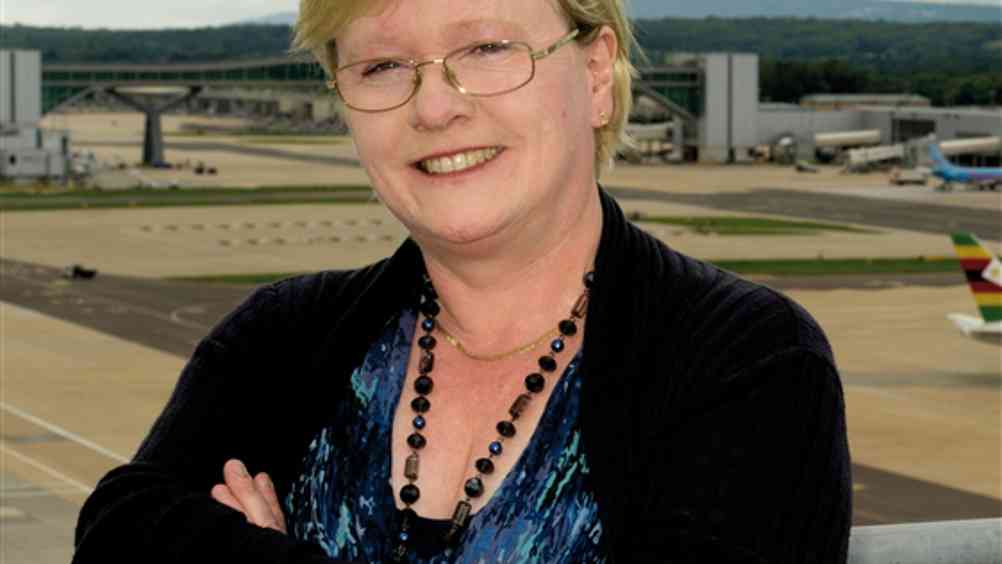 On the train from Victoria Station to Gatwick Airport, I couldn't help but feel like I was going on holiday. I associate other London airports with business travel, while Gatwick, to my mind, has been reserved for holidays. But today I was not flying anywhere, I was there to meet its HR director, Tina Oakley (pictured).
Oakley says Gatwick's holiday airport image is changing. "About 86% of our passengers are travelling for leisure - and the rest for business," she says. "But of that 86%, there have to be people that travel for work as well, and we want them to use Gatwick for business flights."
And the airport is not merely changing image, she says, but upgrading its infrastructure. Between 2008 and 2013, Gatwick is investing £1 billion in upgrade work (more than a £20 million investment every month on average). Judging by the scaffolding festooning the various terminal buildings, this is well under way.
Airport operator BAA, Spanish-owned since 2006, was ordered by the Competition Commission to divest itself of some of its airports and in 2009 Gatwick was bought by a Credit Suisse and General Electric-led private equity fund, Global Infrastructure Partners (GIP). Oakley joined in 2010, from P&O Ferries.
"Gatwick was like BAA's younger child," she says, "with more major investments going into Heathrow. Now we are able to operate independently. We have things to work through, but under BAA I believe we couldn't have got to where we are now. It was very much a parent/child relationship, but now we are having adult conversations with our staff."
In June, Gatwick announced its first full-year results since it left its former parent. Although passenger footfall had dropped to 31.6 million in the year ending March 2011, from 32.4 million in the year ending March 2010 – not least because of December's snow disruption and the unpronounceable Icelandic volcano erupting in May last year, whose ash cloud grounded flights in UK airspace for a week – the airport's turnover had increased from £475.4 million in 2010 to £476.3 million this year.
And its investments have, to date, paid off. Last year, Gatwick forked out £14 million on vehicles to clear snow from runways, which proved a boon when major blizzard disruption hit the south-east of England last Christmas. Heathrow was reduced to a virtual standstill for four days, forcing stranded passengers to sleep in tents outside the airport, in the freezing cold. There were massive delays on the Eurostar, with shivering queues of yet more stranded passengers snaking around St Pancras Station. Gatwick celebrated its finest hour, with snow cleared after four and a half hours, during the worst of weather.
But the continuing challenge for the business is daunting. In the past 18 months, says Oakley, Gatwick has had to start from scratch, designing its own business blueprint as it prepared to go it alone. The airport had no HR strategy to speak of and, although a head of HR was in place, the people side of the business was run by BAA from its head office. Oakley was appointed in September 2010 to be the new broom.
"The people agenda here was behind the times," she says. "HR was process-driven and we needed to make changes around our behaviours and values."
And shortly after starting her new role, Oakley received the results of the annual employee survey. She says: "It was a disappointing set of results. Staff had grown to experience working for an employer [BAA] that was behind the curve, and they felt pretty unsettled – but we had to pick ourselves up and improve and we had to communicate a new business strategy."
That business strategy was geared towards a 'New Gatwick', which could "compete to grow and become London's airport of choice".
The piece is divided into six strands, Oakley says, and they indicated the breadth of the company's ambition: to deliver the best passenger experience; to help the airlines grow; to increase value and efficiency; to protect and enhance Gatwick's reputation; to build a strong health and safety culture; and, last but not least, to develop the best people, processes and technology.
Oakley views HR as fundamental to the success of each and every part of this strategy. "I believe my role is to ensure the business has the capabilities to fulfil its ambition," she explains.
The first task on Oakley's agenda for change was to carry out what she calls a "big conversation" with the company's 2,200 members of staff (out of a total of 23,000 at the airport). Gatwick Airport has a wide base of employees – 1,400 in security roles, other individuals working on the airfield, staff in terminals, handling customer service enquiries, some managing baggage trolleys, as well as back-office staff – and an HR and training team of 40. Since 85% of airport employees are customer-facing, it was imperative any business strategy had to start with its people.
The HR department carried out 170 interviews with employees to pin down the business strategy and decide how to deliver it.
"People wanted to talk," says Oakley. "They really wanted to tell us how they were feeling and we saw a lot of agreement and commonalities coming across through the various interviews and focus groups."
But learning also came from the unexpected. During the snow chaos in December, when head office staff were mobilised to help out across the site, Oakley and other senior managers had the chance to see first-hand the issues staff on the information desk and at the frontline of customer service had to deal with.
In fact, on a daily basis, staff at the information desk at the airport face a myriad of questions from disorientated passengers, ranging from directions to the railway station to 'I can't find my car in the car park. Do you know where it is?'
Following this, the executive team took part in an away day, to formulate its suggestions. From this, a set of processes was developed.
"This isn't rocket science. We just said to staff: 'Tell us how you want us to be' – and from that we created our people strategy," Oakley explains. "And we wanted this to be a strategy rather than an initiative: it is embedded in the business for at least three years."
The biggest part of the strategy focuses on leadership and empowering line managers. The company has 300 line managers and Oakley views each of them as a leader. Here the focus will be on developing communication with – and visibility to – other staff.
Oakley sees the company culture as "performance-driven and values-led", so employee recognition in line with performance management is another area she is moving to develop. This fits in with the aim of the talent management agenda to grow, as Oakley puts it, "capable people for today and tomorrow".
The final part of the strategy involves creating effective ways of working and change-management systems to make the organisation lean and clean. For this, junior members of staff are involved in focus groups with senior management, to put forward their thoughts on how efficiencies can be found. The system allows decisions to be made straight away, without unseen bureaucracy.
"This is an ambitious strategy," says Oakley. "But our people strategy and our business strategy have to go hand-in-hand – and all these ideas came from our conversations with staff."
Following the changes, the HR department re-issued its engagement survey (with 64% of staff filling it in) and received positive feedback from 74% of employees; and Oakley plans to carry out similar surveys on a six-monthly basis.
Having in the past couple of months re-jigged the HR business partner model at Gatwick, Oakley has placed an HR partner in every area of the business to further align HR with the frontline and "to get the most business benefit out of each team".
In a heavily unionised industry, there previously was an employer relations role separate from HR, but in her reshuffle Oakley has combined the business partner and employee relationship roles. She explains: "We want to grow the capability of the HR and line manager team, so as not to make it a special role and to eventually shift this responsibility to the line."
The fundamental role of HR as a strategic business strand becomes more apparent, the more Oakley explains her role. In an organisation made up of 30% women, only one female sits on the executive committee – Tina Oakley, HR director. She is adamant she wouldn't work at an organisation where HR did not receive this recognition.
And for Gatwick, the business case for a robust and strategy-driven HR department is stark. Gatwick is, after all, now competing, with four other London airports, for passengers and airlines – both of which Oakley sees as her clientele. "We want passengers to remember us in a positive way and when people have a choice of airports nowadays, we want it to be here. I used to travel quite a bit for work and I personally feel uncomfortable in an airport I don't know. We want our customers to think of Gatwick as a relaxed, friendly and cosy airport."
The key to this, of course, is excellent customer service, something Oakley and her team invest heavily in, offering all staff the opportunity of taking a City & Guilds level 2 qualification in customer service.
With regards to the airlines operating from Gatwick, the business strategy is not adversarial – Gatwick wants to attract new airlines and hopes the existing carriers can, in Oakley's words, "grow with us".
But despite the media speculation around the prospect of a second runway, Oakley maintains that, due to an agreement with local residents' groups, there are no plans for any new runway at present and no discussions on the topic are even set to take place until after 2019.
Although no longer known as 'London Gatwick' – it is plain 'Gatwick Airport' now, although its website has its cake and eats it by saying 'Your London airport: Gatwick' – it seems as if the airport has fallen into a pretender role to Heathrow's crown.
'London's second airport' or 'Britain's second-biggest airport' are terms thrown around – and, yes, it does remain the London home of charter flights. But what is often forgotten is that Gatwick is the busiest single-runway airport on earth – with an average 52 flights taking off or landing on the site every hour.
But with no apparent plans for a second runway, this means if more flights are to operate from the airport, the ambitions can only be achieved through efficiencies and better value – and the mobilisation of a lean workforce to achieve these ambitions means the buck stops with HR.
Oakley launched the company values earlier this year (they came into her head while walking the dog). They are simple: Deliver great value every day; be better than the rest; work together as one team. Or, in brief, 'deliver; better; together'.
But if HR's role at Gatwick is to make the business's ambitions possible, is Oakley ready for the next challenge?
"We are a people business," she says. "HR is a core strategic function. I believe to be at Gatwick now is fantastic and it is getting increasingly more fantastic – we could really be something different."
I think that's a "yes".